This post is sponsored by Rescue. 
REGARDLESS OF WHETHER YOU BELIEVE THE SEASON STARTS NOV. 1 OR JUST WHEN PUMPKIN SPICE PRODUCTS HIT THE SHELVES (WHICH THIS YEAR WAS, LIKE, AUGUST), WE CAN ALL AGREE THAT WE'RE NOW WELL INTO THE THROES OF HOLIDAY MADNESS.
Parties will be had, White Elephant office swaps will be planned, and exorbitantly expensive plane tickets home will somehow suck up every penny you've saved in the last six months. But beyond that, there's that whole pre-holiday workplace stress-fest thing.
With office closures nearing, your travel time cutting into email availability, and coworkers taking extended vacations, this time of year can feel especially stressful at work. Here are a few suggestions for making the most of your limited hours. Because after all, the goal is that you won't have to think about work while plowing through all the mashed potatoes.
1. IF YOU'RE TAKING TIME OFF, MAKE A DETAILED EXIT PLAN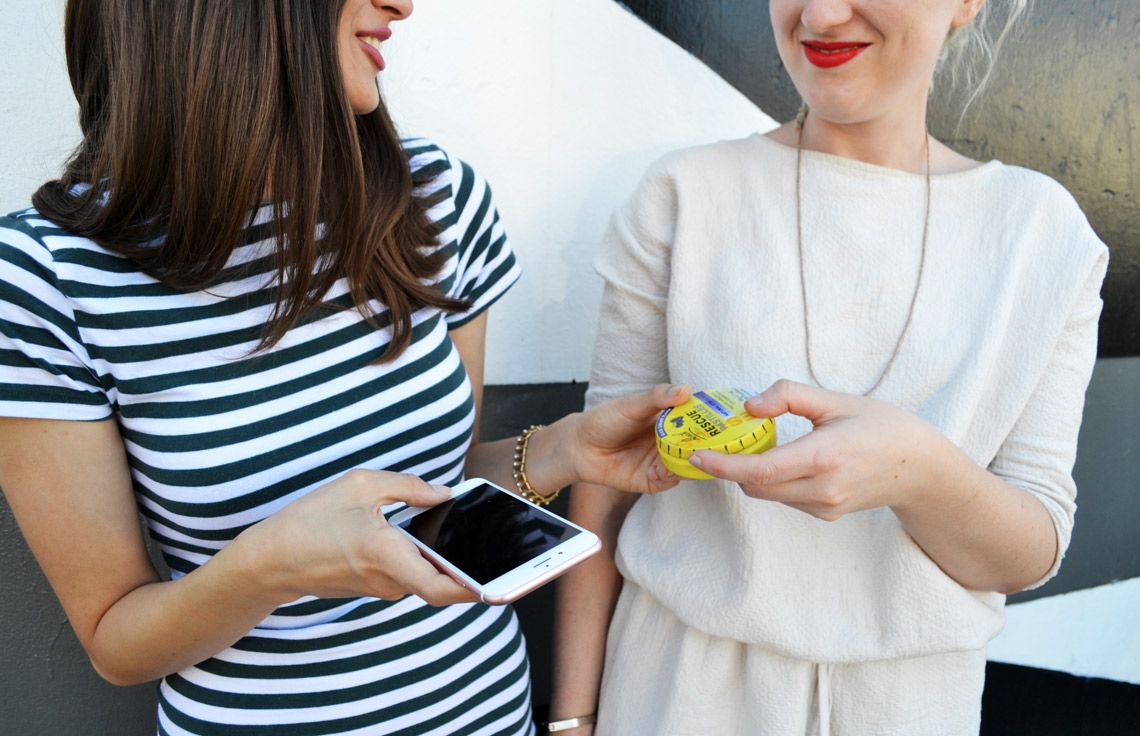 Friends don't let friends spend their breaks on the phone.
Knowing exactly where you stand with coworkers (and who's covering you when you leave for your own vacation) will help you cut down significantly on pre-holiday jitters. To shut off during time off,
try these steps
. It also never hurts to do things early. Consider writing up your autoreply and a parting brief now in case you get swamped in the coming weeks. You can always add some addendums to your notes a few days before checking out. *
Let people know what you're going to need help with during your absence. Make sure that you do return the favor when your colleagues are headed out of the office. 
2. MONOTASK, YOU MADWOMAN
You've probably heard that human beings aren't particularly well-suited to multitasking, and it's particularly true during a hectic time of year. If you find yourself juggling countless projects, faced with a boss who "just drops in," and panicked coworkers who are worried about getting projects off their own plates before checking out—hit pause. Like now. *It's important to know your limits when it comes to your work. If you're already feeling overwhelmed, it's okay to say no to a project or ask for help when things aren't going as smooth as you would like. You'd rather get some help and complete the project than not finishing on time, which could cause more problems. 
"Mindfulness" is the buzzword of the moment but, to be totally honest, most of us aren't exactly meditation fanatics. Still studies show the act of taking a step back and focusing really does change your brain—literally—meaning it will help you destress and face both short- and long-term challenges.
If you're feeling open-minded (pun intended) to taking a few minutes to meditate, try an app like Headspace or Buddify. If not, try to at least schedule 10 minutes into your workday to really turn off. Go for a walk or find somewhere quiet to close your eyes and just mellow. *I find that even taking 3 deep breaths for a count of 5 seconds to inhale and 5-6 seconds to exhale is a great way to take just a few seconds or one minute of your day to find that peace in the chaos of this thing called life. Sighing out helps me if I take a breath and then allow myself to make some noise on the exhale, instantly, I feel less stressed and more grounded. Kaiser Permanente also has free guided meditations on their website: kp.org/listen, even 3-5 minutes is helpful. 
3. NEW TREND ALERT: WORKPLACE LAMAZE
During a recent Career Contessa editorial meeting, everything seemed to collapse all at once. Writers asked for unexpected deadline extensions, a team member caught an epic flu bug…you know how it goes. The stress in the room was palpable.
Ever notice your breath start to speed up when you're in an anxiety-inducing meeting? That's an actual part of the flight or fight response. By regulating your breathing in these situations, you can trick your body into chilling out. That's because slow, deep breath physically slows you down by stimulating a parasympathetic reaction in your system. What that means in simpler terms, according to Dr. Esther Sternberg, a researcher at the National Institute of Mental Health:
"The relaxation response is controlled by another set of nerves — the main nerve being the Vagus nerve. Think of a car throttling down the highway at 120 miles an hour. That's the stress response, and the Vagus nerve is the brake. When you are stressed, you have your foot on the gas, pedal to the floor. When you take slow, deep breaths, that is what is engaging the brake."
In our case, we all sucked on a couple of Rescue Pastilles (for those who aren't familiar, Rescue makes all-natural stress relievers from pastilles to Rescue Remedy spray—all great options to throw in your bag when you're on the go) and each tested one of these breathing exercises. The whole team felt that it really did help, even if it just kept us calm long enough to make it to lunch. *I like to buy Rosewater spray at Sprouts because rosewater has the same effect and the smell helps you feel happier. Whenever I feel stressed at work, or a colleague says they are stressed, I always ask if they want a spray of rosewater. Many mornings I spray the rosewater on my face before I put my makeup on. 
4. GET BY WITH A LITTLE HELP FROM A FRIEND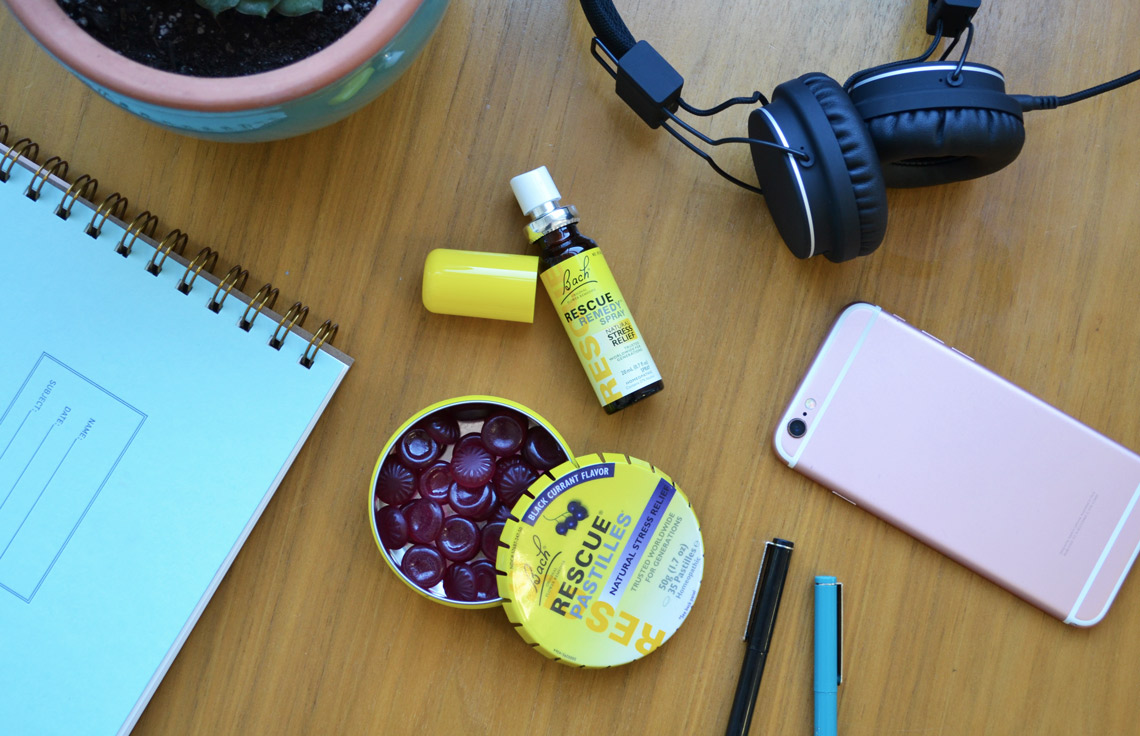 This hot mess isn't helping anyone. One word: monotask.
If your tendency during stressful phases is to go into head-down mode, postponing any social excursions until you're on the other side, you might actually be making yourself more stressed out.
A
landmark study
 from UCLA researchers in 2000 found that female friend groups (aka "girl squads") actually provide us with an alternative to the flight or fight response. It's called "tend and befriend," and this major difference between women's responses to stress and men's means that we actually
need
that happy hour when we're feeling overwhelmed.
So take a break, uncork the rosé, and spend a few hours talking about work rather than doing it. You can tell your boss it's science. *I'd even suggest not talking about work at all and see where the conversation takes you away from the mundane everyday work life that creates stress in your life. Talk about the holiday parties you're going to, sports teams that you're into etc, something that takes your mind off the stress. 
5. EAT THE HOLIDAY COOKIES
We know. We're not saying you should go all-in (no one wants to eat a whole fruit cake anyway), but
studies
 show that eating or drinking something sweet can actually help you destress. "Treat yourself" is an Instagram hashtag for a reason. So if you're deep on deadline and that November team birthday cake looks really good? Go for it. The key here is that you embrace your cravings when they happen and don't beat yourself up for it if they do. It's called intuitive eating, and we're
all about it
. *
I think everyone needs a little excuse to treat themselves with some sweets every once in a while. 
6. PUT DOWN YOUR PHONE. SERIOUSLY.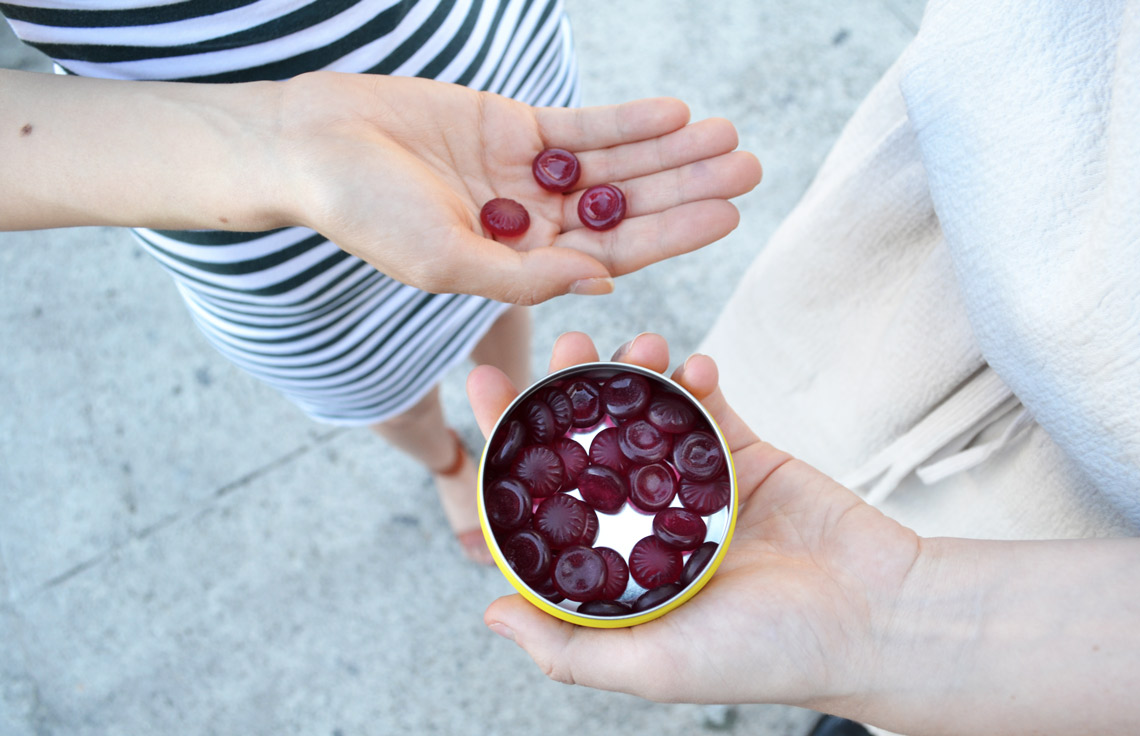 Don't forget to share the
destress
wealth. 'Tis the season.
Research shows that millennials are more stressed out than any previous generation thanks to multiple factors (bad sleeping habits, never totally "clocking out", etc), but here's one that you might not have considered: your smart phone. Turns out millennials are angst-ridden, anxiety-driven messes because of our excessive access to technology. We hate being tied to our phones, yet we also have serious anxiety when we don't have them on us. Catch-22, right?
The key is taking back control. FOMO (Fear Of Missing Out) is real—studies have shown that constant social media contact in which we compare ourselves to others really does make us depressed—and the best way of escaping it is to unplug. Schedule time, preferably once a day, in the next few weeks to leave your phone in another room. If you can stand it, charge your phone away from your bedroom so you can't check Instagram first thing in the morning. Your body and mind will thank you. *Social media cleanses are necessary and many nights after work, I don't check my phone and it's fabulous to just be in the moment with friends, dogs and family.